As we near the end of July, we're over the moon with so many memories of all the Space City adventures that took place on the Avenida. From Discovery Green's 50th lunar landing celebration to space-themed refreshments and exhibits, this month has been truly remarkable.
Three of those remarkable adventures currently live in the GRB. The space-themed art installations Apollo Redux, Destination Moon and Earth from Space have taken the convention center by storm and truly provide a glimpse into outer space. ✨🚀 The exhibits are presented as part of a series of collaborative programs in Houston with the Smithsonian Institution.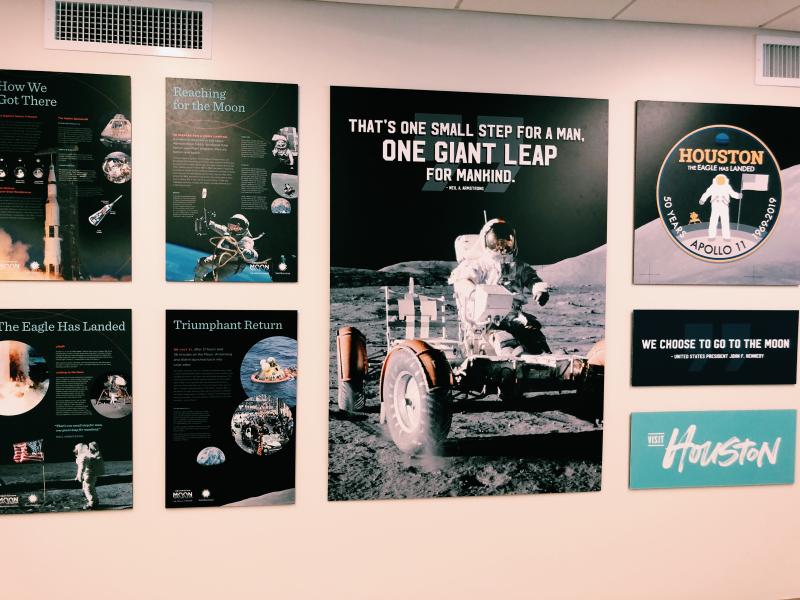 Destination Moon: The Apollo Mission (July 18- Sept. 30th)
Located: The Partnership Tower, Level 2, Garage Elevator Lobby
 The Destination Moon: The Apollo Mission poster exhibition examines the mission and recognizes the sacrifices and devotion of more than 400,000 people employed in NASA programs who worked through the trials, tragedies and triumphs of the 20 missions from 1961 to 1969 before Apollo 11. 

Earth From Space (July 19th-December 31st)
Located: George R. Brown Grand Ballroom
 Earth from Space features twenty large color reproductions. These images captured by high-tech satellites constantly circling the globe, record conditions and events that are nearly impossible to document on the planet's surface. Dozens of orbiting satellites produce images that reveal structures and patterns on the Earth's surface. Satellite imagery continues to provide new perspectives of our world.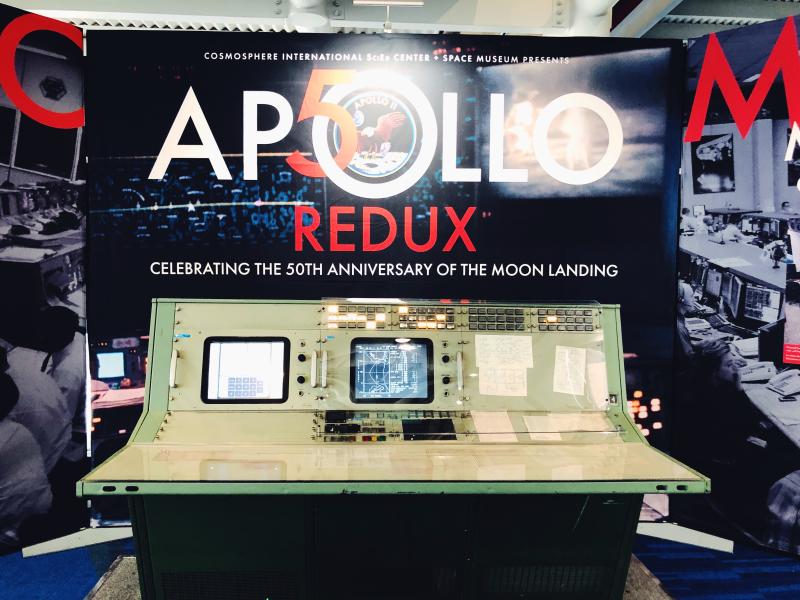 Apollo Redux (July 16th - End of year)
Located: George R. Brown Convention Center, Level 3, across from Hilton Skybridge
Apollo Redux is an interactive piece that puts visitors at the desk of Mission Control. Users are invited to sit at the console- an actual artifact from a control room at Johnson Space Center where Mission Control team members sat and engaged with interactive monitors that take the audience into the mission. The interactive space adventure offers two languages that narrate the mission and explains why each team member's role is crucial to the success of the mission. The installation also allows the audience to dive deeper into the exhibit with an interactive touch screen that brings the Mission Operations Control Room to life and men and women share their personal accounts of being in space.
Remember, these space exhibits are here for a good time, not a long time! Be sure to check them out while they're Earth bound...
For more information on art featured on the Avenida, click here. 🎨
Need a place to park? Check this out! 👈🏼