Discover What's new at Avenida Houston
Known as the city's new epicenter of dining, entertainment and more, Avenida Houston is quickly becoming an integral part of meetings and conventions within the Greater Houston area.
Named after Avenida de las Americas, the boulevard that fronts George R. Brown Convention Center and runs from Minute Maid Park to Hilton Americas-Houston hotel, the 97,000-sq.-ft. Avenida Houston is home to public art installations, two convention headquarter hotels and Discovery Green, a 12-acre park.
Adjacent to George R. Brown Convention Center with 1.2 million square feet of exhibit, meeting and registration space, Avenida Houston completed a $175 million renovation in December 2016, making it the place to sip, stroll and savor in downtown Houston for both leisure and business travelers.
Places to Call Home Near Avenida Houston
The Hilton Americas-Houston has 1,200 rooms, an on-site spa and health club and a FedEx Office Print & Ship Center within the hotel. This property was the first in Texas to receive its Green Seal certification, with its extensive recycling program and usage of low-energy fixtures and energy-saving light bulbs.
The Marriott Marquis Houston has 1,000 rooms and is home to six on-property dining establishments including a two-story sports bar. Also unique to this property is the 530-foot-long Texas-shaped lazy river and rooftop infinity pool that offers spacious views of the adjacent Discovery Green.
Both properties are connected to George R. Brown Convention Center via air-controlled skywalks, offering your attendees easy access to their accommodations and their events.
With a total of 7,700 hotel rooms in downtown Houston, your attendees can choose from a variety of amenities and budgets for their accommodation needs during their time in Houston, including close proximity to Avenida Houston.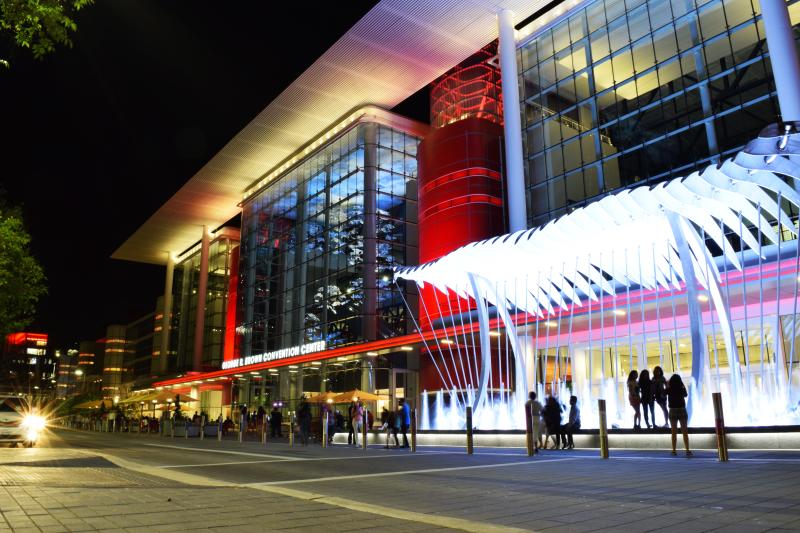 Easily Accessible for Meeting Attendees
Your attendees can explore Avenida Houston and nearby downtown neighborhoods using the recently expanded METRORail that now provides service along 23 miles of central Houston.
This rail service connects Avenida Houston to Theater District and many hot spots throughout town, including NRG Park—home of the Houston Texas, Rodeo Houston and more.
If your attendees are driving to Avenida Houston and George R. Brown Convention Center, they will find three main parking garages in the immediate area—Avenida North, South and Central garages— for a combined total of 4,000 covered parking spaces.
Other transportation options in the area include ridesharing services like UBER or Lyft, and the free Greenlink bus system for an eco-friendly commute through downtown Houston. With defined routes and easy hop-on, hop-off locations, Greenlink offers service along Avenida Houston and throughout downtown.
Enjoy Local Dining in Avenida Houston
Once business is done for the day, your group can explore the nightlife and dining options of Avenida Houston. The epicenter is perfect for after-work cocktails, a business meeting or networking with peers.
With nearly 20 restaurants in the immediate vicinity of Avenida Houston, including five restaurants within the George R. Brown Convention Center, it is a gateway to exquisite cuisine.
A few favorites within the Avenida Houston area include Pappadeaux Seafood-Avenida that serves seafood and Cajun, Louisiana-style favorites like seafood gumbo and crawfish and shrimp fondeaux. This 9,000-sq.-ft. restaurant also has patio dining and an open kitchen.
Need to have a business meeting over dinner? Vic & Anthony's Steakhouse offers a luxurious, quiet atmosphere with an award-winning steak and seafood menu along with a 1,000-plus selection wine list. Private dining areas are also available for small groups or if you're looking for a more intimate setting for a quiet meeting.
Another hot spot at Avenida Houston is Kulture, which is steps away from the convention center and serves Caribbean-Southern cuisine, including dishes like meatloaf meatballs and Gruyere mac and cheese.
For a casual happy hour setting, meet your attendees at the Grotto Downtown for a Southern-Italian meal and the largest grappa menu in downtown. Located on the ground floor of the George R. Brown Convention Center, the restaurant is the place to catch up with peers over small plates or Neapolitan pizza.
Shop and Explore in Avenida Houston
As both a nod to "Space City" and the launching of new items, popular retailer LAUNCH showcases the work of 13 local designers and artisans, rotating through different local designers each month. This pop-up shop highlights the trendy, artsy side of Houston with products ranging from men's and women's clothing to accessories and handbags.
Another nod to the local arts community includes the addition of mini-murals and sculptures added to the Avenida Houston area. Two massive sculptural works, "Soaring in the Clouds" by Ed Wilson and "Wings Over Water" by Joe O' Connell and Creative Machines, both greet visitors to the Avenida district along with many local artists featured throughout the George R. Brown Convention Center. Other works featured in the Discovery Green focus on space, technology, the city's vibrant history and entrepreneurial community.
Also new to the area is downtown Houston's first satellite news studio, KHOU11, the area's CBS affiliate. At 780-sq.-ft., the Avenida Houston studio and news station will be at center of major events taking place in the city and convention center. The station plans to broadcast multiple times a week from this new studio, offering your attendees a local look at the city of Houston and potential coverage for the different conventions in the area.
The Visit Houston Sales team is ready to put together an itinerary for you to experience this bustling new area of our city. Let us show you why Houston is consistently considered a top destination for major events and conventions. Submit an RFP and discover what Avenida Houston has to offer your next meeting or convention— complete with entertainment, accommodations and plenty of fun to experience after the conference!