Holidays at Avenida Houston
This holiday season there is no shortage of things to see and do in Space City and Avenida Houston, downtown's newest entertainment campus, is no exception. From festivals to concerts and even ice skating, Avenida Houston is full of fun sure to get everyone in the holiday spirit.
WINTER EVENTS, ARTS & FESTIVITIES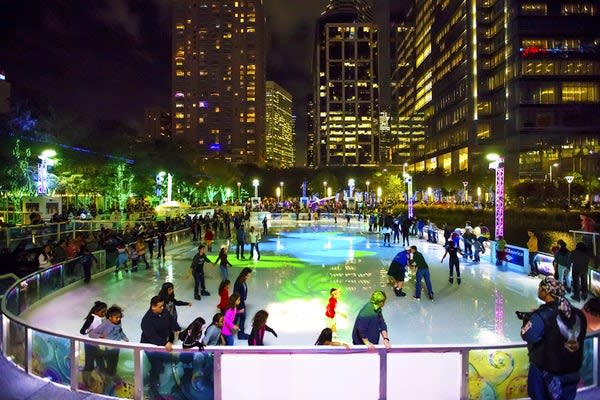 Holiday Lights in Downtown Houston
Nov. 16 - Dec. 7, 2018
It's a holiday tradition many people begin around this time, piling into the car and riding around town looking at Christmas lights. Click here for details.  
Gust
Nov. 16 - March 21
Art is all around Downtown Houston this year. Walk through the Discovery Green park to experience one (or all) of the four interactive art installations. These pinwheel-themed works of wonder illuminate various light patterns at night, all while responding to the changing direction of the breeze.
Ice Skating Rink
Nov. 16 - Jan. 27,2018
Ice skating is great for those looking for a little light holiday activity. With so many themes throughout the week, including discounts on Cheap Skate Night and Rainbow on Ice, there's something for everyone.
2.5 Ton Santa's Gingerbread Sweets Shop
Nov. 21 - Dec. 30, 2018
Enjoy a special treat when you visit the life-size gingerbread house made of 800 lbs. of sugar, 800 lbs. of gingerbread and 1,000 lbs. of chocolate at Hilton Americas-Houston. 
Flea By Night
Nov. 24, 2018 and every Sat. in Dec. until Dec. 22, 2018
Check out all types of pieces by local artisans at this market. There's still time before those workplace and home gift exchanges. Find a holiday gift or just grab something for yourself.
LOOP
Nov. 30, 2018 - Jan. 6, 2019
Downtown's fun and entertaining new art installation has arrived! LOOP is a cross between a music box, a zoetrope and a railway handcar. The retro-futuristic machine, more than two meters in diameter, creates animated fairy-tale loops. 
Mayor's Holiday Celebration & Tree Lighting 
Nov. 30, 2018
Enjoy this holiday tradition, now in its 99th year, in Hermann Square at City Hall. The celebration includes music, fireworks, a visit from Santa and more.
CIGNA Sunday Streets: Main Street Holiday Edition
Dec. 2, 2018
For four hours on Sunday, the family-friendly event opens a stretch of streets, usually reserved for vehicles, to allow for activities like cycling, dancing, running and walking. The initiative is designed to promote and improve the health of Houstonians. Don't forget to dress for the weather and bring lots of water.  
Holiday Lights Tour
Dec. 7, 2018
Once again, the Houston Wave will take guests on a Holiday Lights Tour to check out all that dazzles and sparkles this holiday season. The tour will start at Market Square Park downtown before embarking on a journey past the tree at City Hall and the giant ornaments at Discovery Green and ending at Hermann Park near Miller Outdoor Theater. 
FOOD AND BEVERAGE
With over 20 restaurants within walking distance, Avenida Houston allows you to stroll while savoring the cuisines of the world. Meet up for drinks with friends at one of many happy hours, or take a break from a day at play with our kid-friendly restaurants. Savor luxury cuisine or just find a place to get your morning coffee. You can find more about where to eat along The Plaza here. 
PARKING AND TRANSPORTATION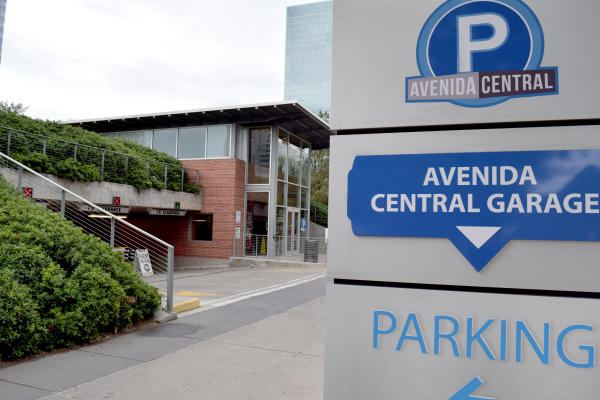 Guests coming to experience holidays at Discovery Green or on The Plaza at Avenida Houston can find garage parking in the Avenida North, South and Central parking garages, located at each end of the George R. Brown Convention Center and the center of Discovery Green park. There is at least a 2-hr. parking validation provided with a restaurant purchase. More information on parking and transportation can be found here.