Party on the Plaza Celebrates National Hispanic Heritage Month
The Plaza at Avenida Houston will come alive Saturday, September 16, 2023 from 6-9 p.m. with Latin and Mexican Regional Music in celebration of National Hispanic Heritage Month. Presented by Houston First Corporation (HFC), Party on the Plaza is free and open to the public as part of the organization's recognition and appreciation of the contributions of Hispanic Americans.
Showcasing local, live, diverse entertainment is part of HFC's commitment to support programming that reflects the rich tapestry of cultures and people who make up Houston's vibrant community.
Music & Dance Performances:
SHEKERE Band
This year's featured artist is SHEKERE Band, directed by singer and musician Agustin Nava who combines his Venezuelan roots with his American influence. Nava trained as a young child on the Cuatro Venezolano (a traditional Venezuelan guitar), playing his version of Spanish pop rock.
For more than a decade, SHEKERE Band has been playing all types of music from high energy dance to American classics, and of course Latin Pop, Merengue, Salsa, Cumbia, Bachata, Cha-Cha, Reggaeton, and Rock en Español. From Latin to funk to disco, this entertaining group does it all and is ready to please the audience with their creative vocal and musical talents!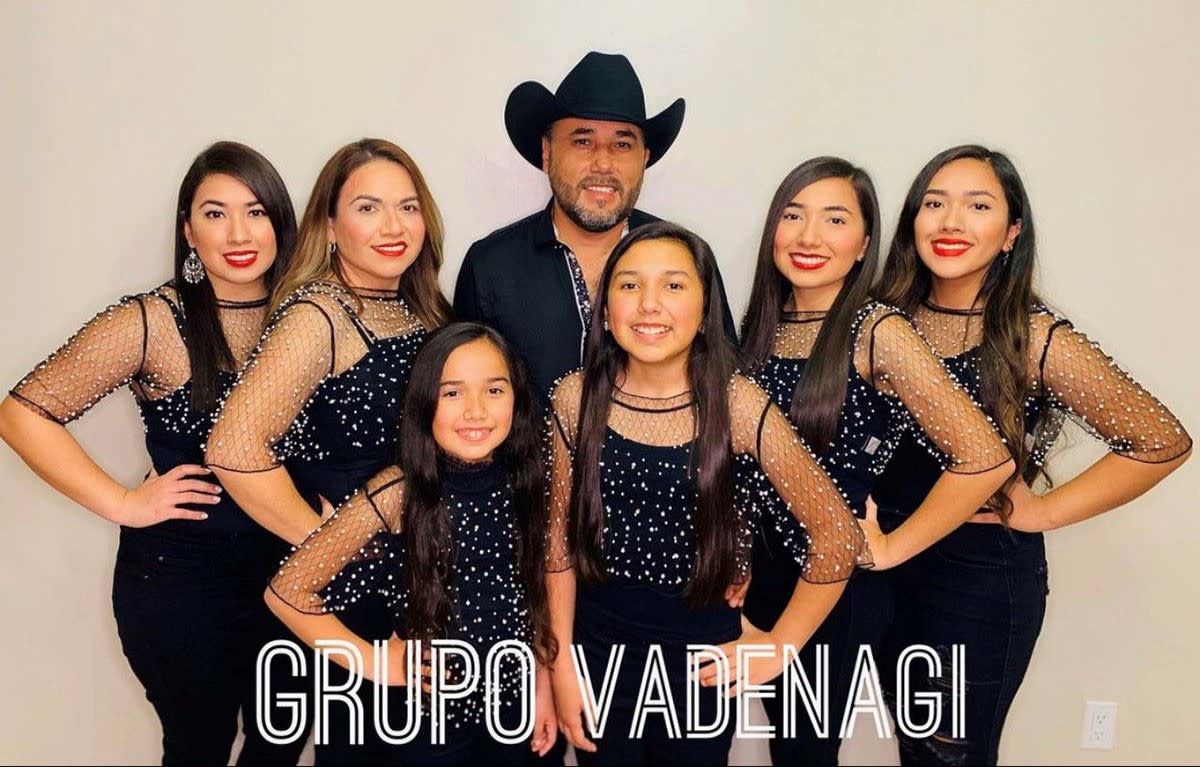 Grupo Vadenagi
Grupo Vadenagi, will kick off the evening with performances of Mexican Norteño music, a traditional music genre of the Northern Mexico region. The popular family group was founded in 2013 by Carlos Zambrano, who serves as musical director. Carlos is husband and father to the very talented women who complete the group: wife and mother Mayra Zambrano, and four daughters, Daisy, Nallely, Giselle and Camila. Also performing with the group is family friend, Martin Lucatero.
Grupo Vadenagi is one of very few female-dominated Norteño groups in what is still a male-dominated regional music genre. Grupo says its mission is clear: to empower women, promote family wellness and keep Norteño music traditions alive!
Flea by Night
In addition to live music, the Avenida de las Americas street will be closed to traffic as Houston First Corporation partners with Discovery Green to bring Flea by Night, an open-air market featuring local artisans and small businesses selling a variety of goods.
Visitors will be able to discover new handmade, recycled, repurposed, local goods as well as enjoy free live music at Party on the Plaza.
---
Parking and Transportation
Guests coming to experience AAPI, can find garage parking in the Avenida North and Avenida South parking garages, located at each end of the George R. Brown Convention Center More information on rates and transportation can be found here.