One question that I get asked all the time is, "where is a good spot downtown for dinner?" Instinctively, I have to take a moment and really think about "where" are actual good dining options. Well, I now have several really good recommendations to suggest to people when I'm approached with that question. Avenida Houston (Houston's downtown campus surrounding the GRB) is home to nearly 20 dining destinations that are worth the visit and support while you're in downtown HTX.
On a recent visit to downtown before a concert, I had some time to spare and decided to check out The Grove. While this wasn't my first time at The Grove, there had been a significant amount of time since I last visited and tried their menu. The Grove has always been a hit amongst Houstonians for its views of Discovery Green and Downtown Houston, its expansive outdoor space, and approachable, tasty menu options. This particular visit for happy hour offered the perfect taste of their new menu and provided me with incredible vistas of the park for absolute #winterweather #patiogoals.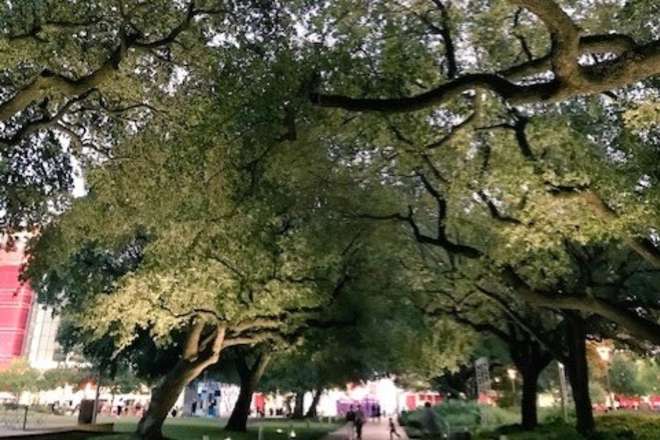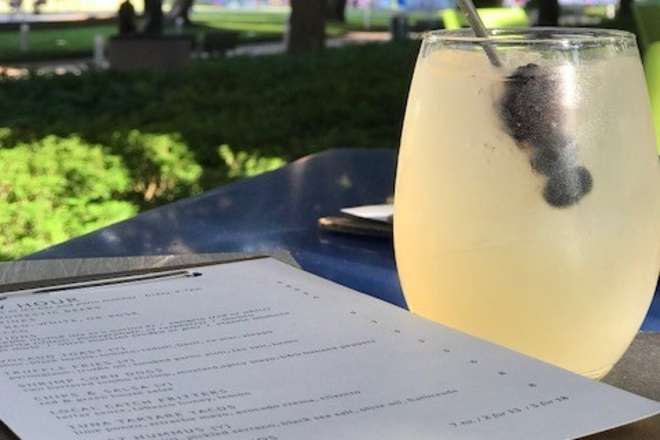 Enjoying a nice Houston day on a patio is worthy of celebrating, right? In true form, my happy hour experience at The Grove kicked off with a glass of prosecco and an order of truffle fries. The fries were thinly sliced and a perfect balance of truffle oil and sea salt; let's just say fries are my weakness.
Upon recommendation from the staff, I also decided to try the local catch fritters, tuna tartare tacos and pork belly nachos. I am a huge tartare fan. And, who doesn't love tacos, so this combination was exciting to me. This dish was very light, flavorful, and serving it as a taco provided a much needed textural contrast; definitely a very Houston/Gulf-centric take on a classic item. The pork belly nachos were over the top and "in-your-face" in all the right ways. Huge chunks of fatty, delicious pork belly towered atop the nachos just enticing you to dig in; skip the fork and get right into the goodness with your hands. As I enjoyed these first few offerings, I also tried their red and white sangrias (both of which are on the "The Grove Happy Hour" menu). My favorite dish of the day by far was the local catch fritters. How could something seemingly so simple, taste so darn good? As the waiter recommended the fritters to me, I could see the excitement in his eyes and that same excitement was present as he brought the dish over to my table. Small, round balls of deep fried local fish (similar to a hush puppy), topped with a tobasco honey; just mouthwatering.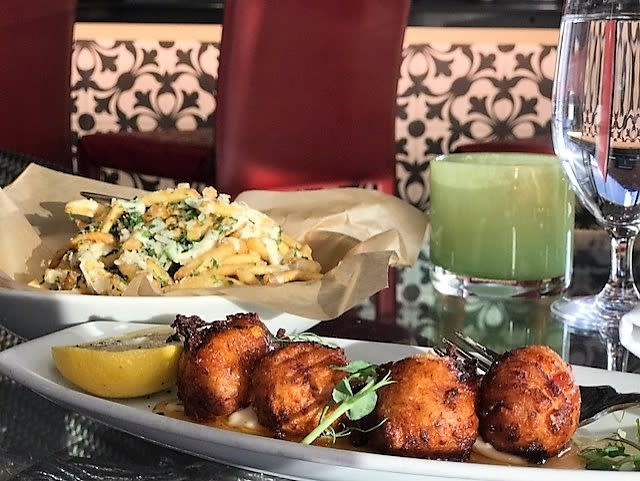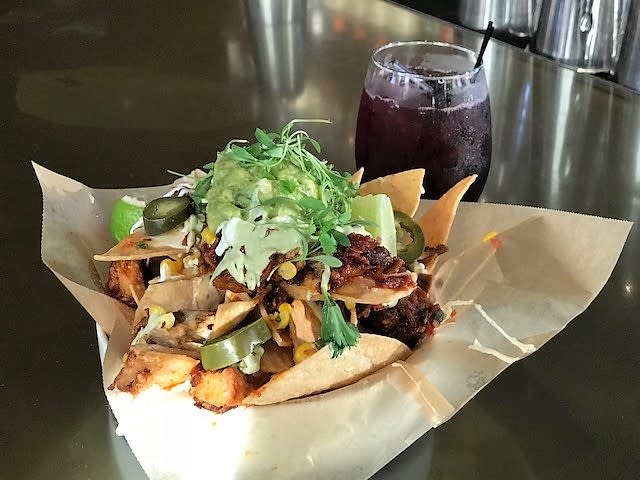 Hopefully, by now you're already calling a few friends and planning to check out The Grove for happy hour or dinner. Whether you're in town for a visit, enjoying a staycation at one of downtown's great hotels, catching a Rockets game at Toyota Center, or just adventuring around Downtown Houston, you're sure to have an experience at The Grove that makes the trip totally worth it and memorable.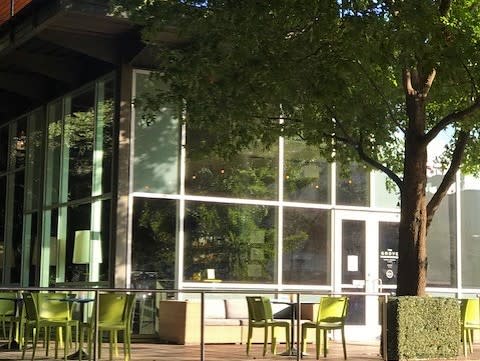 Dominique McGhee is a Houston writer with interests in food, travel, and style. He shares his interests on his site Days With Dom, and loves a good Instagram worthy photo. Follow him @dom_mghee on Instagram.