Thinking about a holiday staycation or a gorgeous space to hold your next gathering? Then look no further than the Avenida and the newly renovated Hilton Americas-Houston. The $54 million transformation focuses on functionality, accessibility and comfort. The new contemporary design features premium in-room amenities including additional power and USB ports, 65" 4K ultra high-resolution Samsung TVs, multifunctional furniture, updated restrooms with walk-in showers and more.
Since it was first built in 2004, the hotel has gathered an impressive collection of contemporary art from Texas-based artists. Many important works can be seen in the hotel's main lobby and other public spaces, including prints by Robert Rauschenberg, originally from Port Arthur, and a large granite sculpture by Corpus Christi native Jesus Moroles. During the 2020 transformation, the team wanted to be sure that Houston was well represented.
"It was important for us to include the various shapes, forms and artistry of this colorful city and what better way than through art," General Manager Jacques D'Rovencourt said. 
Art works from eleven local artists in diverse mediums from photography, printmaking and collage, were selected to enhance the guestrooms and parlors with local flavor. Colorful accent walls in each guest-room add to the contemporary mood. The abstract wall-murals are composed from close-up photographs of original paintings from four Houston artists, Justin Garcia, Jonathan Paul Jackson, Melinda Laszczynski and Nicola Parente. Photos of Houston by Fikry Botros and Mabry Campbell are displayed in the hallways and restrooms. Other works by Waddy Armstrong, Nick and Jake Studio, Luisa Duarte, Robert Ruello and Geoff Winningham can also be seen.
The hotel's 91,500 square feet of meeting space have been refreshed to create event experiences that are clean, safe, flexible and socially responsible incorporating Hilton EventReady with Hilton CleanStay. Flexible meeting space opens the door for weddings, galas, luncheons, fundraisers, celebrations and many other event possibilities both during COVID-19 and beyond. The Hilton Americas-Houston is also participating in the city-wide Houston Clean initiative, developed to help guests easily identify safety measures in place to protect both patrons and associates.
Great views of Houston's downtown skyline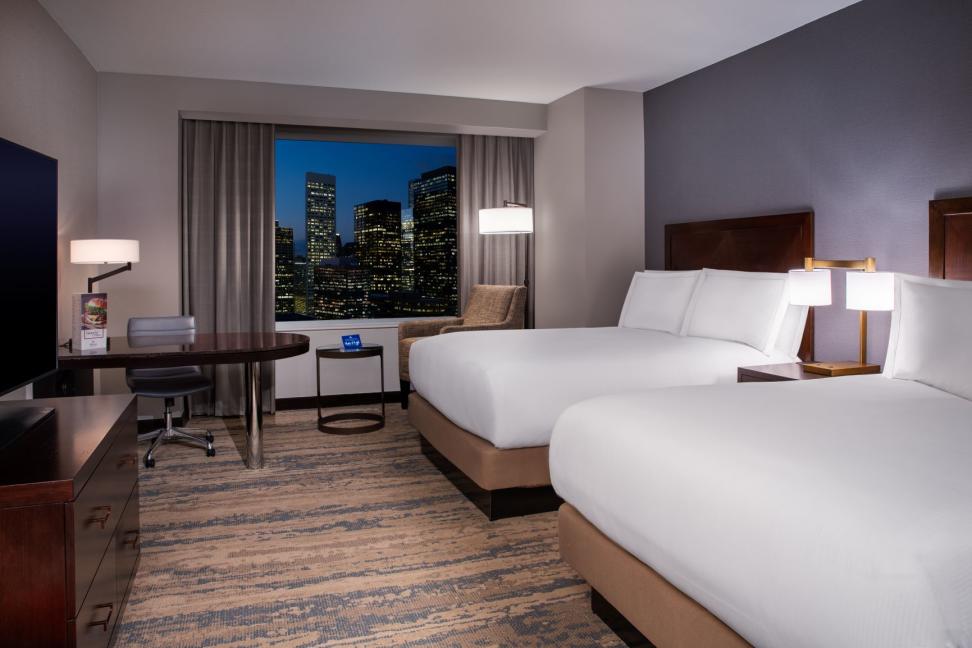 Wall mural by Justin Garcia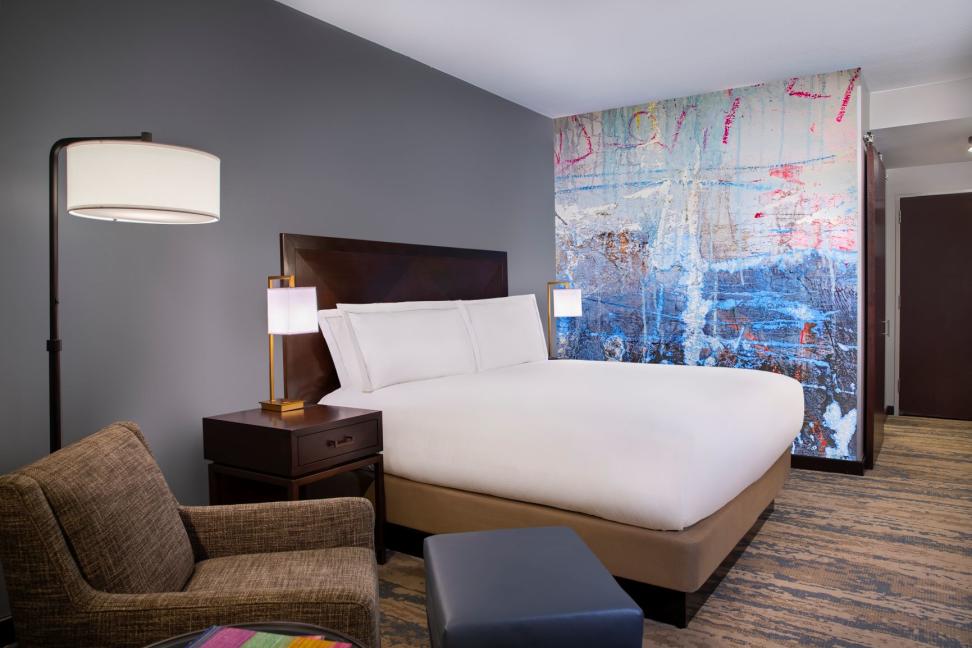 Wall mural by Jonathan Paul Jackson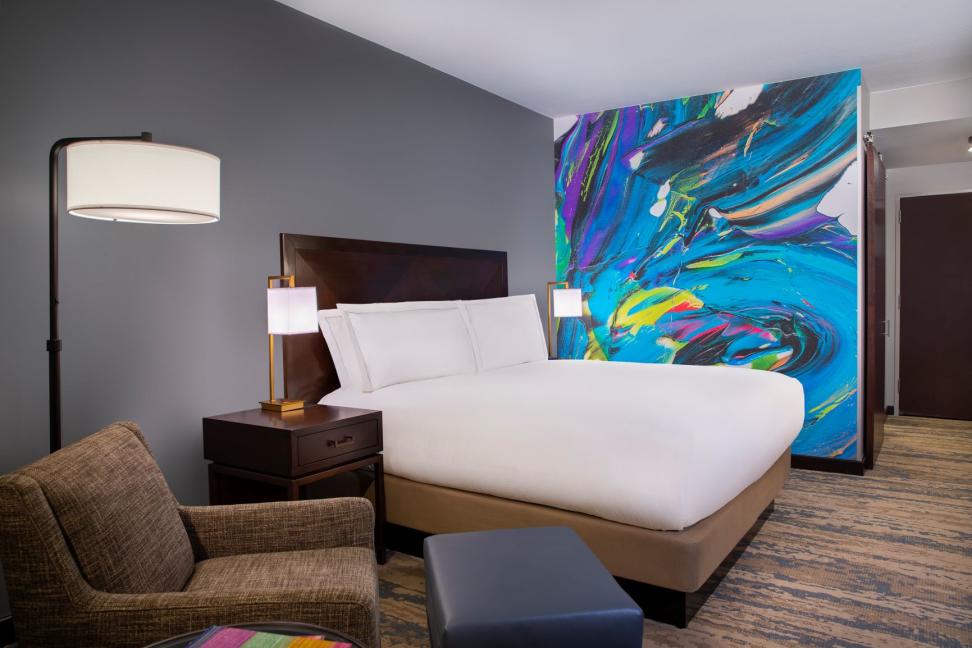 Wall mural by Melinda Laszczynski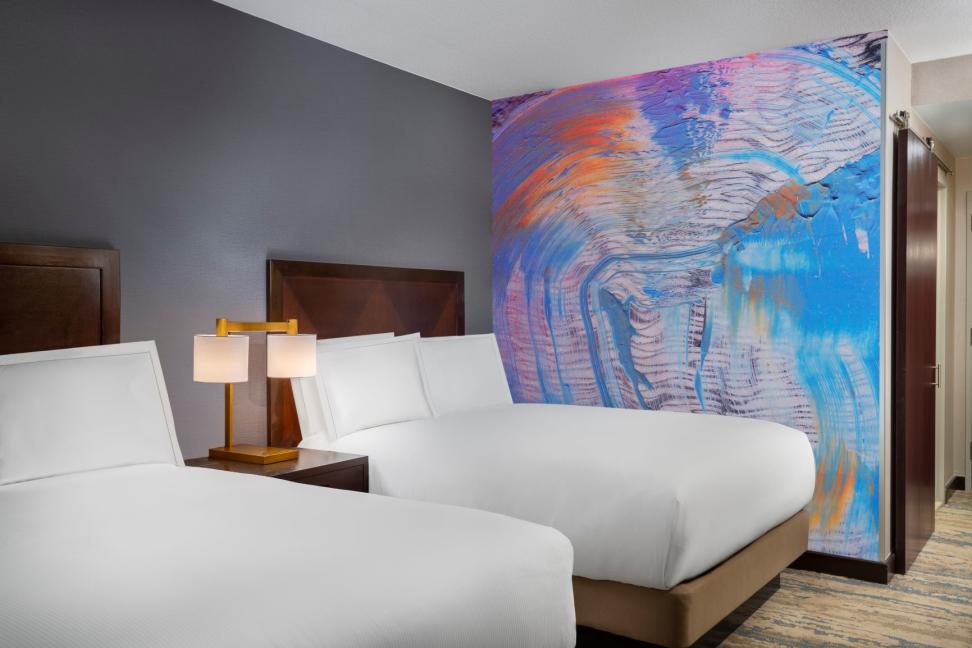 Walk-in showers, lighted mirrors and photos by Mabry Campbell