During the month of February and on view through September 6, 2021, two art installations in the Partnership Tower celebrate local African-American artists. The Partnership Tower is located at 701 Avenida de las Americas, Houston, Texas, 77010.

IVORY TOWERS
In progress: February 4 - 28, 2021, 8 AM – 6 PM 
On view: March 1 - September 6, 2021
Exhibition location: Partnership Tower Level 1 Lobby - Inside windows on ADLA
Ronald Llewellyn Jones creates a site-specific sculptural installation that redefines the space through which visitors and team members typically travel when entering and exiting the building. Jones's airy string assemblages playfully investigate architectural influences and reinvent everyday spaces into unexpected encounters. Jones will work throughout the month of February in the Partnership Tower Building Entrance Lobby space. Visitors may safely observe his working on-site and the progress of the installation from the exterior windows that line the entry to the building on Avenida de las Americas. The building entrance is currently closed for health and safety due to the COVID-19 pandemic. 
The artist's schedule may vary, and he may not be on-site during the times listed above. He often streams live on his Instagram account @ronaldllewellynjones when working. 
Jones is an interdisciplinary artist based in Houston, Texas. His artwork explores barriers between artists and audiences, as well as individuals and their communities by challenging their respective perceptions as it relates to access and agency within normative societal structures. In addition to numerous installations in public spaces throughout Houston, Jones' work has been included in exhibitions at Foltz Fine Art, Art League Houston, Flatland Gallery, Space HL, Hardy and Nance Studios, and BOX 13 ArtSpace.
COLOR STORY
On view: February 6 – September 6, 2021
Exhibition location: Partnership Tower - Level 2 Avenida North Parking garage elevator lobby - Entrance on Rusk, take elevators to Level 2
Accessible in the public space that joins the Partnership Tower and the George R. Brown Convention Center and Marriott Marquis Hotel is Color Story, an exhibition highlighting the work of two abstract artists who live and work in Houston. Both explore personal narratives through painting and multimedia collage on paper and canvas. Lanecia A. Rouse and Jonathan Paul Jackson welcome visitors with an explosion of color, texture, and individual expression. Both artists utilize a variety of materials to create these works, building up surfaces that invite the viewer to contemplate each composition, whether they be drawn to the physical construction, or the story they may tell.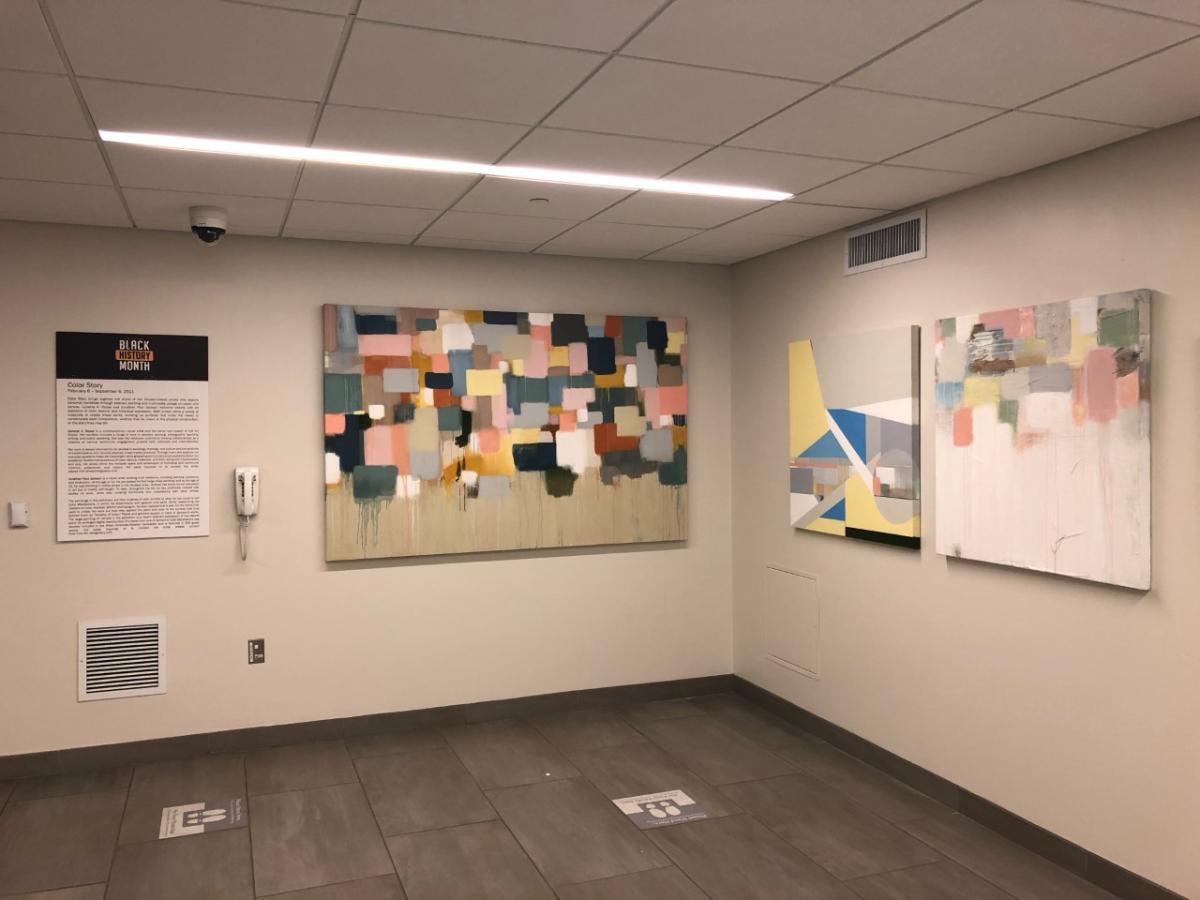 Lanecia A. Rouse is a multidisciplinary visual artist and the owner and creator of LAR Art Studio. Her portfolio includes a range of work in abstract painting, photography, teaching, writing, and public speaking. She also has extensive experience working collaboratively as a creative on various community engagement projects both nationally and internationally. Her work is deeply informed by her studies in sociology, theology, and culture and is a product of contemplative and intuitive abstract mixed media practices. Through them she explores our everyday quests to make life meaningful while grappling with fundamental questions about our existence. Subtle manipulations of color, texture, materials, and form, along with improvisation and play, her works mirror the intricate layers and landscapes of individual and communal memory, experience, and history. For sales inquiries or to contact the artist, please visit larartphotography.com.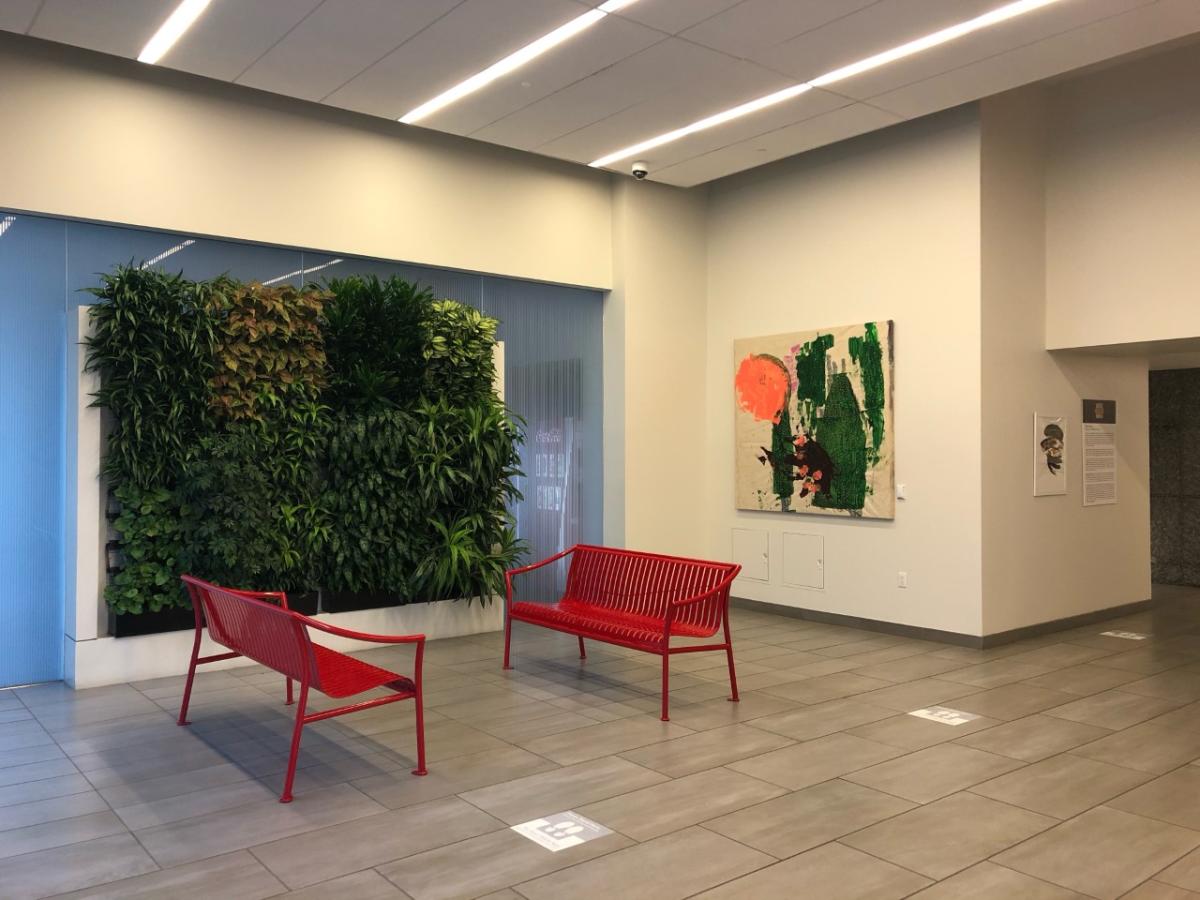 Jonathan Paul Jackson is a visual artist working in all mediums, including painting, sculpting, and illustration. At the age of 11, he completed his first large-scale painting, and by the age of 16, he was showing in coffee shops in the Houston area. Jackson has some formal education in art but is mostly self-taught. To date, throughout his life, he has prolifically created new bodies of work, while also curating exhibitions and installations with other artists. The paintings in this exhibition are from a series of color studies or what he has come to call Color Meditations, in which he experiments with gesture and paint. While researching the masters of color, Matisse, Warhol and Gauguin, he soon realized that it was not the colors they used to create the work but how they applied the paint and color to the surface that truly defined them as "Masters of Color." Plants and gardens appear in many of Jackson's works. The large painting on canvas in the exhibition is a recent abstract expression of the natural world. An enlarged digital reproduction of a detail from one of Jackson's Color Meditations was recently included in the Hilton Americas-Houston renovation and is featured in 255 guest rooms. For sales information or to contact the artist, please contact Foltz Fine Art, foltzgallery.com.