Nothing beats enjoying a meal outside on a nice day. In Avenida Houston, many restaurants offer al fresco dining for you to take in the city skyline, and enjoy delicious food. 
Avenida Plaza Patios
Along the George R. Brown Convention Center, four restaurants featuring various cuisines offer outdoor patio seating for customers. Grotto Downtown, and Pappadeaux Seafood Kitchen all allow you to relax outdoors and enjoy your food while you watch the world go by. Each restaurant is conveniently connected to the GRB's first-floor concourse, allowing you access to the public art and events inside the building.
Grotto and Pappadeaux's patios are personalized to fit the experience of each restaurant with custom seating and amenities. 
Pappasito's Cantina
On the ground floor of the Hilton Americas-Houston, you'll find the popular Tex-Mex destination, Pappasito's Cantina. With a wide-variety of dishes, custom cocktails and an exciting atmosphere, this restaurant is a favorite of Houstonians and guests alike. Along Crawford St. is Pappasito's patio. The street is usually calm, but will see more traffic during a Toyota Center event, with its proximity to the arena. 
Discovery Green Dining
The 12-acre park and front yard of the convention center is filled with art, events and dining. Discovery Green's two restaurants, The Grove and The Lake House, both offer excellent patio seating. The Grove offers quality cuisine along the trees, with many local favorites. A second floor deck overlooking the downtown skyline is even available for special events. Next to Kinder Lake, in the center of the park, is The Lake House. With a simple menu and offering beer and wine, the restaurant is a perfect spot to fuel your child up during a day at play. The patio for the restaurant wraps around the side facing White Promenade, allowing guests to dine, viewing the lush grass and populated green space, along the sidewalk, or overlooking the lake.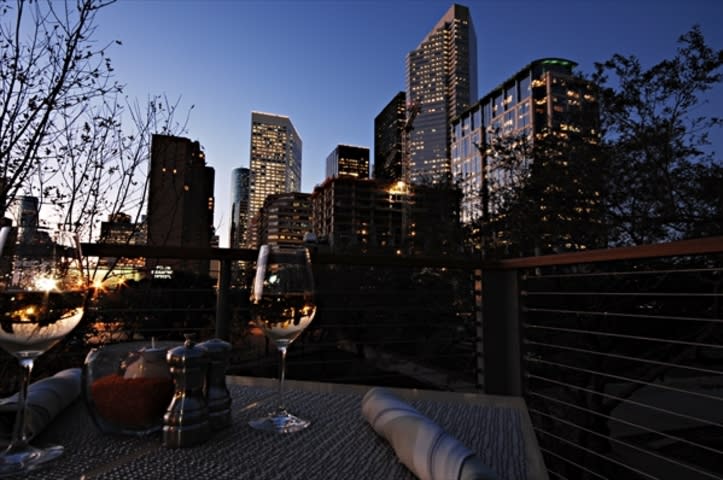 Hearsay on the Green
Known for its wood interior and fantastic menu, Hearsay on the Green offers a small patio along Dallas St., on the ground floor of the Embassy Suites. Stop in for lunch, dinner or brunch and dine from a menu offering sandwiches, seafood, steak and more. 
Marriott Marquis Patios
The new Marriott Marquis Houston has made quite the splash with its Texas-shaped lazy river overlooking Discovery Green and downtown. With five dining locations on the ground floor, two hot spots also have patio seating for guests. Xochi is a concept from James Beard Award-winning chef Hugo Ortega, specializing in Mexican fare. Outdoor seating will allow you to dine and sip your craft cocktail, looking out on Crawford and Walker streets. At the corner of Walker St. and Avenida de las Americas, Biggio's Sports Bar offers a higher view of the area with its second-level patio. The restaurant pays tribute to Astros legend and hall-of-fame member Craig Biggio, and serves up a wide variety of bar favorites.