Avenida Houston will soon become home to one of the largest backyard, concert and dining venues in Houston – The Rustic!
Although its new location is in the largest city in Texas — fourth largest in the nation, but who's bragging — The Rustic plans to stay true to the farm-to-table, homestyle dishes patrons have grown to love. Included in a robust list of flavorful menu items are beer-can hen with jalapeno bread, salt-and-peppered deviled eggs, house brisket, ​slow-cooked carnitas with orange peel, peanut butter crumb crusted pie and much more. With so many options, guests will likely take advantage of servings of 40 beers on tap, the robust selection of Texas wines and a creative list of cocktails.
Along with several food options, The Rustic's massive space will provide plenty of room for guests. At 25,000-square-feet, space plans for the dining and entertainment venue include a retractable roof, large outdoor patio, stage for daily music acts and two VIP areas near the stage for concert-goers. And just in case someone has one too many or simply opts not to drive, one of the new features is an Uber Lounge for ride-hailing users.
Opening just a few short years ago, The Rustic quickly gained momentum amongst Dallas locals and visitors alike and catapulted to the downtown scene as one of the busiest restaurants in the Uptown area. Fast-forward four years later, the foodie favorite prepares for its summer 2018 grand opening in downtown Houston's newest entertainment districts, Avenida Houston.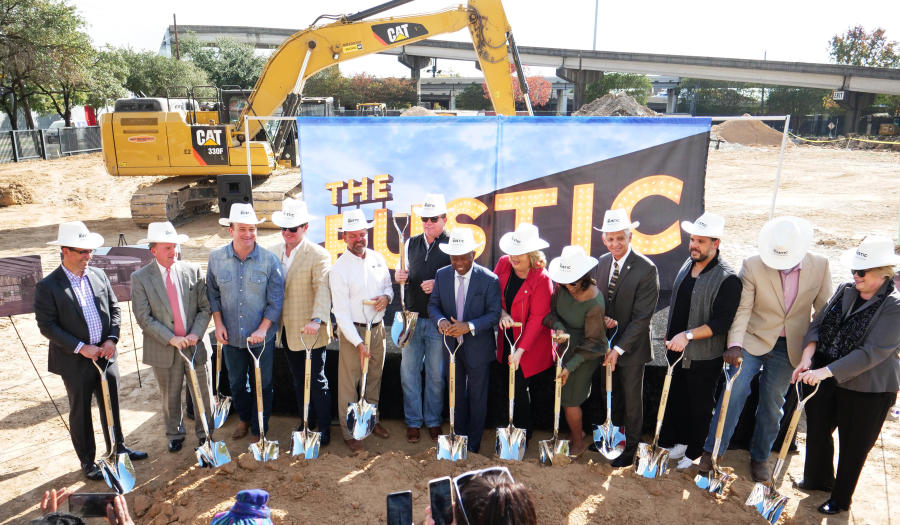 The official groundbreaking for the new location took place on Nov. 30 in Avenida Houston at 1836 Polk Street. Mayor Sylvester Turner, along with Texas country artist and partner of The Rustic, Pat Green, joined The Rustic's co-owners Kyle Noonan and Josh Sepkowitz in turning over the earth. The opening will create jobs for 200 people.
For developments on The Rustic's downtown opening, visit www.avenidahouston.com or follow Avenida Houston on Facebook, Instagram and Twitter.